ProTec™ Blades
Our product, Proven Technology Customized Blades or ProTecTM Blades, is offered as a Re-Rate retrofit package to upgrade multistage axial compressors operating in the following industrial processes:
Fluid Catalytic Cracking units of oil refineries
Nitric Acid Plants for fertilizer production
Blast Furnaces of iron and steel producers
Air Separation Plants
Liquefied Natural Gas and Gas to Liquid production
Wind Tunnels
ProTecTM Blades can increase the flow capacity of these units by ~10% for a power limited driver to more than 30% if additional drive power is available. Energy input also can be reduced by ~11%, and conversion time is minimal.
ProTecTM Blades incorporate multiple proven compressor airfoil technology features based on decades of successful experience from the highest efficiency and most reliable aircraft and industrial gas turbine axial compressors in the world, and support compliance with ISO 50001:2011 Energy Management System.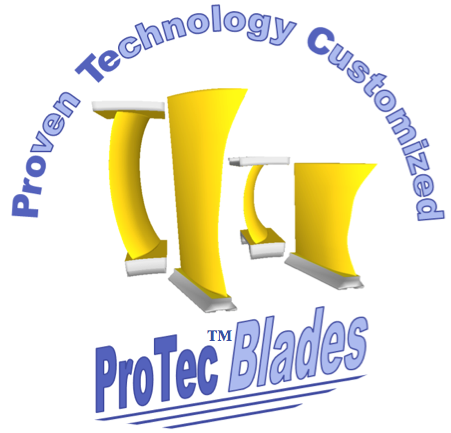 ProTecTM Blades provide many combinations of:
Substantially Increased Flow
Significantly Higher Efficiency
Increased Pressure Ratio
Plus Longer Airfoil Life
As a support option, TurboVision offers its ProTecTM Remote Monitoring system. This real-time "expert" system monitors the operation of anything from individual compressor units to entire industrial process systems 24/7/365. Not only can the system warn of impending problems long before they become real problems to facilitate robust preventative maintenance, but it can also identify the most likely cause of the problem. Additionally, since ProTecTM Remote Monitoring system is physics-based, it can further optimize industrial processes continually for increased productivity and reduced cost.
Advanced technology used in ProTecTM Remote Monitoring system is derived from real-time remote monitoring of commercial aircraft engines where problems are diagnosed in-flight, and any required maintenance actions are usually in the hands of the ground crew before the plane lands. ProTecTM Remote Monitoring also continually minimizes industrial process life cycle costs by avoiding problems and extending maintenance intervals.
ProTecTM Remote Monitoring is like having highly trained and experienced experts on-site 24/7/365 continuously monitoring and optimizing industrial process systems.
Let TurboVision be "Your Source of Competitive Advantage."