Gas Turbine Development
TurboVision has helped its customers:
Design, manufacture, test and develop the world's highest efficiency and highest reliability gas turbines, and other turbomachinery, power systems and industrial processes to achieve a competitive advantage worldwide.
Build and upgrade the customer's own in-house design systems, data analytics systems, manufacturing process capabilities, and supply chain management systems.
Train the customer's own engineering and manufacturing personnel using the apprenticeship training system where less experienced engineers learn from more experienced engineers.
TurboVision and Mitsubishi Hitachi Power Systems, Ltd. ("MHPS") have had a long-term alliance since February 1994, which according to MHPS has improved considerably the competitiveness of its gas turbines and its worldwide market share.
TurboVision and MHPS alliance upgraded and/or developed MHPS' F, G, H and J class gas turbines, and specifically developed:
Highest efficiency and reliability compressors, turbines, and secondary flow and sealing systems
Durable dry low emission combustors
High yield turbine part investment castings
Accurate and rapid gas turbine design systems
Trained engineering personnel in advanced gas turbine design and development
TurboVision founded and operated successfully efficient and innovative multinational engineering and manufacturing teams, including a "Skunk Works" type lean gas turbine design and development organization.
TurboVision offers unique and unmatched services for the design and development of world-class industrial gas turbines.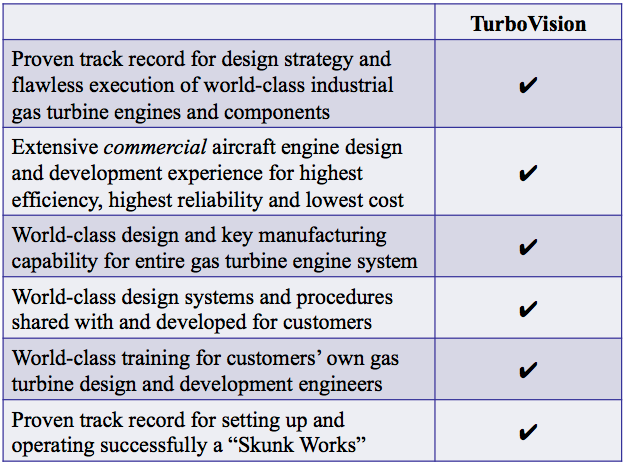 Let TurboVision be "Your Source of Competitive Advantage."